Southern Soul Musical Festival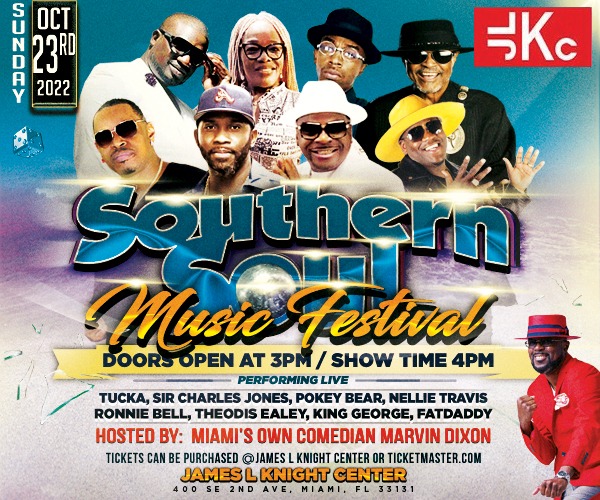 Southern Soul Musical Festival
The Southern Soul Music Festival is coming to the James L Knight Center in Miami, FL. Hosted by Miami's own Comedian Marvin Dixon. Experience all your favorite soulful hits and top songs at the Southern Soul Music Festival!  Sunday. October 23, 2022
Featuring:
Tucka – Over the past few years, a brand new voice has risen by the name of TUCKA, he's been winning fans with his signature sound.
Sir Charles Jones – is an artist whose part-throwback, part-modern style of R&B is based on traditional Southern soul and blues.
Pokey Bear – Southern bluesman Pokey Bear injects a larger-than-life swagger into his R&B-infused bayou soul.
Nellie "Tiger" Travis – A fiery singer whose music encompasses both contemporary blues and Southern Soul.
Ronnie Bell – Ronnie Bell is a church-reared independent R&B singer, his material has alternated between contemporary commercial sounds and slower numbers more in line with deeply Southern soul blues.
Theodis Ealey – Blues singer, guitarist, and bandleader Theodis Ealey has earned his nickname as "the Bluesman Lover."
King George – a recording artist and a "completely unknown" comes out of nowhere with a hit single containing so much swagger, honesty, and downright emotion it eclipses everything else out there."Keep On Rollin"
FatDaddy – New Upcoming Blues & Southern Soul Artist from Dallas, Texas. Using soulful music as a new way of storytelling.