REMADE MEN …. An Evening with Mike Tyson and Michael Franzese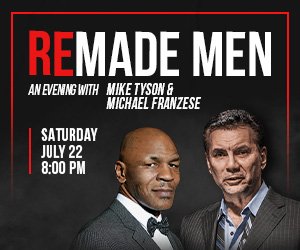 REMADE MEN
"An Evening with Mike Tyson and Michael Franzese"
Mike Tyson…..The Man who fought his way through the often dangerous streets of Brooklyn to become at the age of twenty, the youngest Heavyweight Champion of the World, the aptly named,  "Baddest Man on the Planet", and perhaps one of the most recognizable faces in the world today.
Michael Franzese ….The man who survived seven criminal indictments, five trials, eight years in prison, and a mafia death sentence to become "The biggest earner the Mob had seen since Al Capone, and the youngest Mobster on Fortune Magazines  "50 most powerful and wealthy Mob Bosses"
Now they have come together in one special evening to use their vast experience to benefit others.  They share their journey to help others become the best possible version of themselves in every aspect of their lives.   To teach others how to turn adversities into their advantages.
Don't miss these "REMADE MEN" as you spend a remarkable evening together and get an opportunity to also ask questions and get answers.
VIP Package available!