Jack White "The Supply Chain Issues Tour"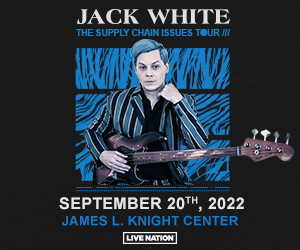 Jack White "The Supply Chain Issues Tour"
Jack White is just getting started. A new show at the James L. Knight Center for The Supply Chain Issues Tour is here.
Tickets are on sale Friday, June 24 at 10am
Important Event Info: WHAT IS A "PHONE-FREE SHOW"? No phones allowed in the performance space. An unplugged, real life experience. HOW DOES IT WORK? Upon arrival at the venue, staff will be available to help you put your phone in a lockable pouch which you keep throughout the night. WHAT IF I HAVE AN EMERGENCY AND NEED TO ACCESS MY PHONE? You can unlock your phone from the pouch at any time by going to the clearly-marked Phone Use Areas located in the lobby or the concourse. WHAT ABOUT CASHLESS BARS OR MERCH? We highly recommend bringing a physical credit card just in case you can't access your phone at the bar or merch area. WHATIF I WANT TO POST ON MY SOCIALS? We can help you with that. Our tour photographer will post live photos and videos after every show at jackwhiteiii.com and on Instagram @officialjackwhite. Download content from the site or repost from Jack's IG. WHY ARE YOU DOING THIS & IS IT MANDATORY? We believe this creates a better experience for everyone & yes, it's NON-NEGOTIABLE.