Tickets and Events

Postponed: First Anti-Communist Concert in USA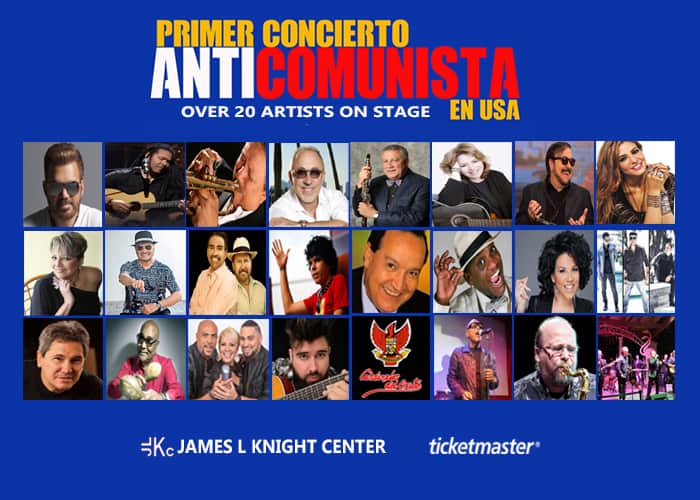 IMPORTANT: This event has been postponed until further notice. Previously purchased tickets will be honored for the new date. Refunds for this event can be requested at point of purchase.
The FIRST ANTI-COMMUNIST CONCERT IN THE USA is part of a HISTORICAL MUSICAL MOVEMENT, with the objective of divulging the threat that Communism poses to the world. Over twenty international artists on stage will join their voices against COMMUNISM.
Lineup: Willy Chirino, Amaury Gutierrez, Arturo Sandoval, Emilio Estefan, Paquito d' Rivera, Marisela Verena, Frankie Marcos & Clouds, Lena Burke, Malena Burke, Carlos Oliva, Hansel y Raul, Gorki Aguila, Roberto Torres, Boncó Quiñongo, Lucy Grau, MDO, Jorge Luis Piloto, Luis Bofill, Los 3 de La Habana, Vidal Vox, Los Cardenales del Exito, Marcelino Valdes, Dr. Ed Calle & Banda Los Carlos.