Tickets and Events
Attention: Tickets sold for JLKC events will be in compliance with prevailing governmental COVID guidelines in effect on the day of the event. All patrons must wear either a medical grade or tight fitting mask for admission to all events. Bandanas or gaiter type masks are not approved for admission.

Joan Manuel Serrat "El Vicio de Cantar" 1965-2022 Tour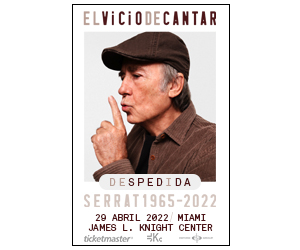 Joan Manuel Serrat
EL VICIO DE CANTAR 1965-2022 Tour!
Joan Manuel Serrat regresa a los escenarios de Miami con una última gira: «EL VICIO DE CANTAR 1965-2022», con la que quiere despedirse personalmente del público con el que ha compartido vida y canciones durante más de medio siglo!
Los boletos salen a las venta este Viernes, 10 de Diciembre.